Cochrane Ontario Polar Bear
A large polar bear statue stands tall and welcomes visitors into the town of Cochrane, Ontario.
Cochrane, Ontario is a friendly town situated in the middle of the Great Clay Belt at the Northern Eastern end of Ontario. Thepolar bear statue is the town's mascot that stands at the entrance of the town and has been given the name "Chimo" which translates to welcome.
A polar bear statue in Cochrane, Ontario, Canada, North America.
Cochrane Ontario Polar Bear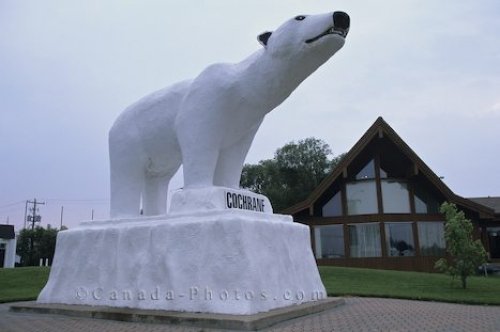 Picture of a polar bear statue at the entrance to the town of Cochrane in Ontario, Canada.
Pictures from photo gallery "All Pictures"


= click to scroll forwards/backwards
Related photo galleries & travel ideas:
Cochrane Ontario Polar Bear Photo & Travel Destination