Duck Liver Meal
A meal of duck liver is cooked to perfection and served to guests at the Rifflin'Hitch Lodge in Southern Labrador, Canada.
Foie Gras or duck liver is a very popular delicacy served regularly at high class French restaurants but at the Rifflin' Hitch Lodge in Southern Labrador, the gourmet chef specializes in it. Duck liver is considered a luxury meal and most people only consume this type of food on very special occasions.
Foie Gras (Duck Liver) entree at Rifflin'Hitch Lodge, Eagle River, Southern Labrador, Labrador, Newfoundland Labrador, Canada.
Duck Liver Meal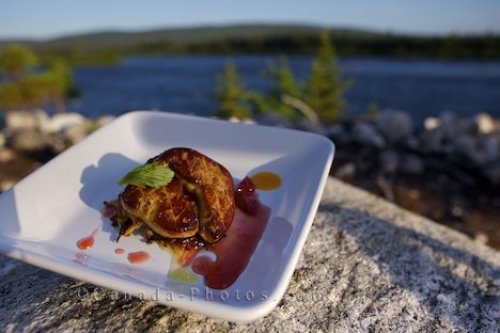 Picture of an elegant meal of duck liver topped with a tasty sauce with the beauty of the Eagle River flowing in the background.
Pictures from photo gallery "All Pictures"


= click to scroll forwards/backwards
Related photo galleries & travel ideas:
Duck Liver Meal Photo & Travel Destination