Gastown Steam Clock Vancouver British Columbia
People gather around the steam clock in Gastown in downtown Vancouver, British Columbia to watch its display and take some pictures.
The Gastown Steam Clock is displayed on the street corner in downtown Vancouver in British Columbia, Canada and is in full swing as the clock strikes eleven o'clock. The steam clock is a prominent fixture in Gastown and on every quarter of the hour, you can watch the steam rise out of the top of the clock and the mechanisms inside work their magic.
Gastown steam clock, Water Street, Vancouver, British Columbia, Canada, North America.
Gastown Steam Clock Vancouver British Columbia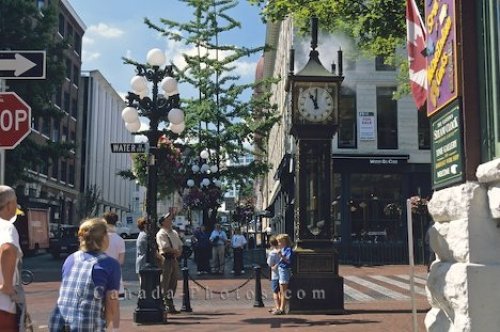 Picture of the famous steam clock in the streets of Gastown in Vancouver, British Columbia in Canada.
Pictures from photo gallery "All Pictures"


= click to scroll forwards/backwards
Related photo galleries & travel ideas:
Gastown Steam Clock Vancouver British Columbia Photo & Travel Destination