Notre Dame Bay Sunset Reflections Twillingate Newfoundland
A beautiful sunset over Notre Dame Bay in Twillingate, Newfoundland shows its beautiful reflections across the surface of the tranquil ocean.
From below the Long Point Lighthouse, overlooking Notre Dame Bay in Twilligate, Newfoundland, the coastal scenery is beautiful. The ocean remains calm as the reflections of the orange/yellow colors explode at sunset and span for miles across the surface. The clouds become a dark gray in color blanketing half the sky and leaving clear skies for the promise of a new day off in the distance.
The cliffs where the Long Point Lighthouse stands are approximately 300 feet above sea level creating a panoramic view of the Atlantic Ocean. At certain times throughout the year, not only are sunsets amazing to see but the possibility of nature's wonders like icebergs, whales, seals and birds also come into view from the Long Point Lighthouse in Twillingate, Newfoundland.
... continue below the picture...
Notre Dame Bay Sunset Reflections Twillingate Newfoundland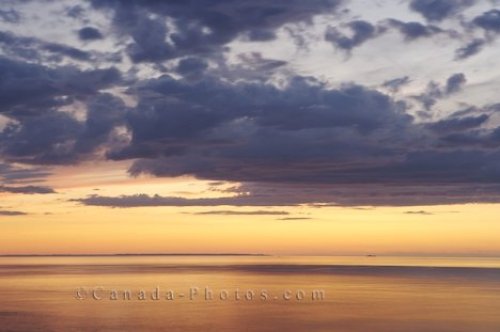 Picture of the sunset reflections on the water of Notre Dame Bay in Twillingate, Newfoundland in Canada.
Pictures from photo gallery "All Pictures"


= click to scroll forwards/backwards
Located on the North Twillingate Island at Long Point, the lighthouse watches over the water of Notre Dame Bay where boundaries are unmarked and the sunset lighting appears endless. There is a viewing platform at the car park and a trail passing by the lighthouse, both places ideal for watching the sunset hues adorn the Newfoundland sky and the reflections flicker off the water.
Coastal scenery of clouds and ocean seen from just below the Twillingate Long Point Lighthouse, Twillingate, Road to the Isles, Highway 340, Notre Dame Bay, Newfoundland, Newfoundland Labrador, Canada.
Related photo galleries & travel ideas:
Notre Dame Bay Sunset Reflections Twillingate Newfoundland Photo & Travel Destination