Steamship Coals Ontario
A worker aboard the RM Segwun Steamship in Gravenhurst, Ontario keeps things burning as he adds more coals to the furnace.
A steamship needs lots of coals to keep things running smoothly and this worker spends many hours adding fuel to the fire aboard the R.M. Segwun in Gravenhurst, Ontario. The steamship has a long history and today it is used to take visitors on cruises up and down the Muskoka Lakes which means a full time job for this man.
R.M. Segwun in Gravenhurst, Ontario, Canada, North America.
Steamship Coals Ontario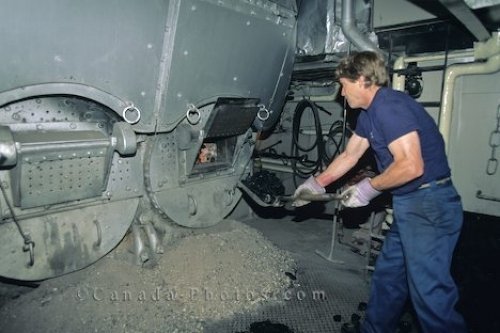 Picture of a man adding more coals to the fire on the RM Segwun steamship in Gravenhurst, Ontario in Canada.
Pictures from photo gallery "All Pictures"


= click to scroll forwards/backwards
Related photo galleries & travel ideas:
Steamship Coals Ontario Photo & Travel Destination