Fly Fishing Preparation
A guide from the Rifflin'Hitch Lodge in Southern Labrador shows a guest the preparation techniques of fly fishing before heading into the river.
Two men, a guide and a guest, from the Riffin'Hitch Lodge in Southern Labrador, stand along the banks of the Eagle River in Southern Labrador. Preparation of the flying fishing rods is a skill that is taught by the fishing guide to ensure you have the best chance of catching a salmon.
Fisherman with guide at Rifflin'Hitch Lodge, Eagle River, Southern Labrador, Labrador, Newfoundland Labrador, Canada. Model Released.
Fly Fishing Preparation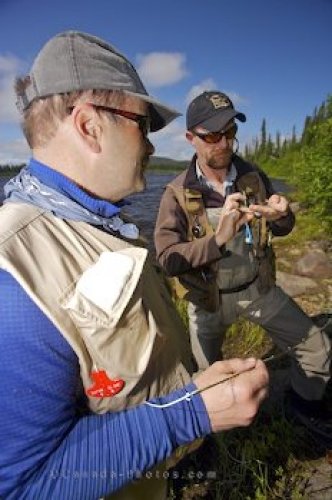 Picture of men in the midst of their preparation before casting their fly fishing lines.
Related photo galleries & travel ideas:
Fly Fishing Preparation Photo & Travel Destination