Food Salmon Entree White Wine Picture
Picture yourself enjoying this gourmet meal of salmon cooked on a hot rock accompanied by a glass or two of white wine.
A gourmet entree of salmon served up on a heated rock with some gourmet rice and a mixture of fresh vegetables. A glass of cold white wine is the perfect beverage to accompany this meal.
Cooking on a hot rock is a very unique way to prepare a meal and has been used for centuries by a mix of cultures. The food is sensational at the Rifflin'Hitch Lodge in Southern Labrador and the guests are treated and fed like kings and queens.
Salmon served sizzling on a highly heated rock, Chef Nancy Elliot, Rifflin'Hitch Lodge, Eagle River, Southern Labrador, Labrador, Newfoundland Labrador, Canada.
Food Salmon Entree White Wine Picture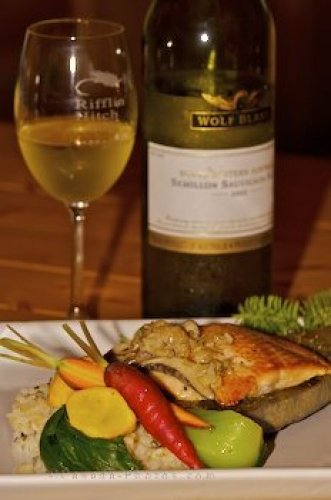 Picture of an entree of sizzling salmon accompanied by a glass of white wine.
Related photo galleries & travel ideas:
Food Salmon Entree White Wine Picture Photo & Travel Destination