Aerial Of Canyon Near Thunder Bay
An aerial view shows lush green forest in a canyon near Sleeping Giant Provincial Park and Thunder Bay in the background.
An aerial view shows water flowing through a canyon with surrounding lush green trees. Thunder Bay and the Sleeping Gian Provincial Park sit in the distance of the canyon. Thunder Bay sits along the northern shores of Lake Superior, part of the Great Lakes. The Great Lakes are freshwater lakes that border the United States and Canada.
Aerial view of a canyon with Sleeping Giant Provincial Park in the background, Lake Superior, Thunder Bay, Ontario, Canada.
Aerial Of Canyon Near Thunder Bay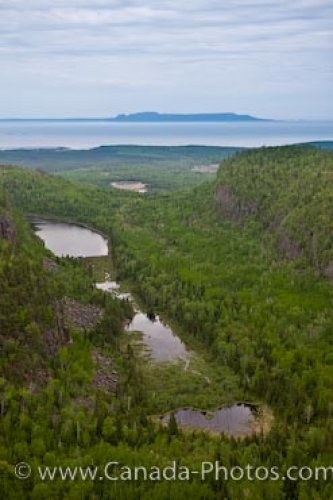 Aerial view of a canyon with Thunder Bay and Sleeping Giant Provincial Park in the background
Related photo galleries & travel ideas:
Aerial Of Canyon Near Thunder Bay Photo & Travel Destination