Meal Preparation food picture
A Gourmet Chef spends a good part of her day in the preparation of each meal, while the other part is making the appearance look irresistible.
The preparation of a meal can take hours even when you are a gourmet chef and you have created the same meal thousands of times over. Once the meal is complete, the preparation time is well worth it when you see the smiles on people's faces as they thoroughly enjoy their food.
Chef Nancy Elliot preparing a meal at Rifflin'Hitch Lodge, Southern Labrador, Labrador, Newfoundland Labrador, Canada. Model Released.
Meal Preparation food picture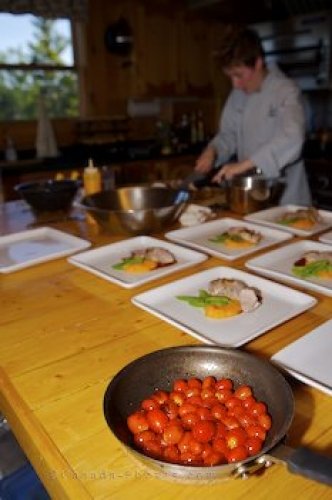 Picture of a gourmet chef in the midst of the meal preparation to be served to fishing lodge guests.
Pictures from photo gallery "All Pictures"


= click to scroll forwards/backwards
Related photo galleries & travel ideas:
Meal Preparation food picture Photo & Travel Destination