Sault Ste Marie Monument Ontario
Canada flags and a monument on display in front of a historic building in Sault Ste. Marie in Ontario, Canada.
Canada flags blow in the breeze attached to the flag poles that stand in the beautifully manicured grass that surrounds a monument in Sault Ste Marie in Ontario. When you stroll through this garden, read the plaques on the monument and the list of names that it is symbolic to.
Sault Ste Marie, City, Ontario, Canada, North America.
Sault Ste Marie Monument Ontario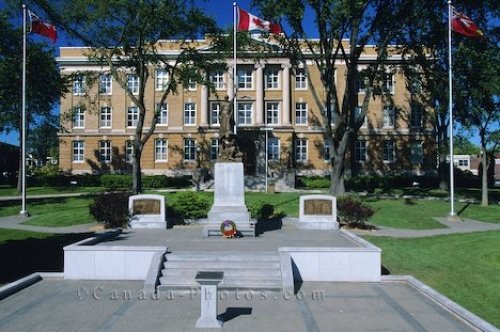 Picture of a monument with flag poles standing tall as Canada flags flap in the wind in Sault Ste Marie, Ontario.
Pictures from photo gallery "All Pictures"


= click to scroll forwards/backwards
Related photo galleries & travel ideas:
Sault Ste Marie Monument Ontario Photo & Travel Destination