Shopping Centre Cours Mont Royal Montreal
The Cours Mont-Royal in the downtown core of Montreal, Quebec is a high class shopping centre where elegance oozes around every corner.
The interior of the Cours Mont-Royal in Montreal, Quebec has four levels all adorned in soft, soothing colors which was once home to a large 1,100 room hotel. After the closure of the five star hotel, the building was converted into this spectacular shopping centre.
In the shopping centre, the first level is made up of restaurants, the middle two floors are high class name brand stores and the top floor contains luxurious condominiums. Many businesses and fancy clubs make up the rest of the space in the shopping centre and as you stroll through the Cours Mont-Royal while in downtown Montreal, be sure to be on your best behavior.
Cours Mont-Royal, elegant shopping centre in downtown city of Montreal, Quebec, Canada.
Shopping Centre Cours Mont Royal Montreal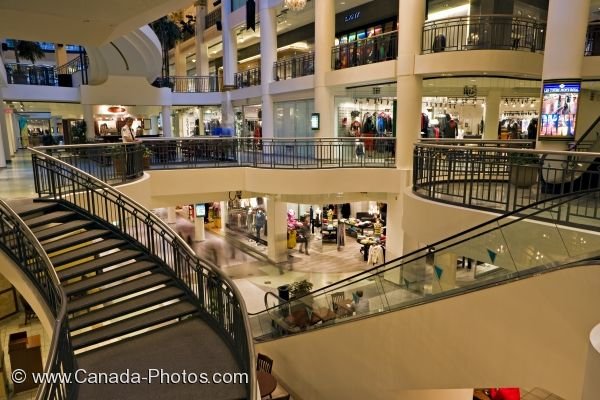 Picture of the Cours Mont-Royal, an exquisite shopping centre in the downtown area of Montreal, Quebec in Canada.
Pictures from photo gallery "All Pictures"


= click to scroll forwards/backwards
Related photo galleries & travel ideas:
Shopping Centre Cours Mont Royal Montreal Photo & Travel Destination